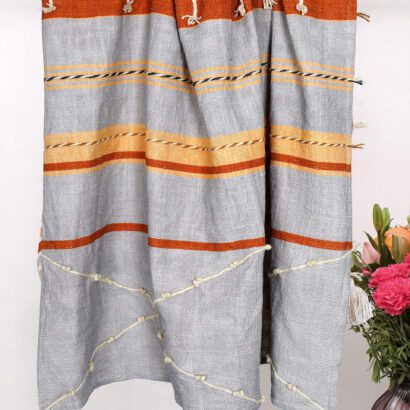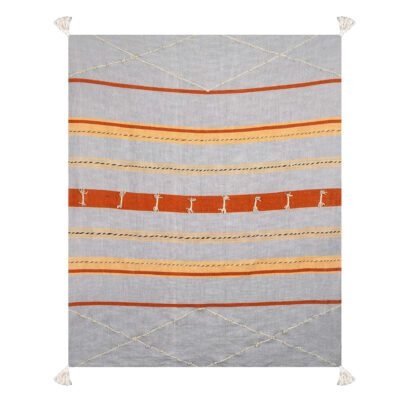 If you are looking to create and reinvigorate your bedroom with a fresh look and appeal, the Rooibos Embroidered Multi Color Cotton Blanket is sure to make a sophisticated style statement. One-of-a-kind and meticulously crafted with artisanal expertise, this soft blanket for winter effortlessly instills a cozy vibe to your ambiance. Anushka Vijayvargia luxurious collection of cotton blanket will be sure to keep you warm and your home looking wonderfully inviting.
Delivery and return
Delivery and return
Return Process:
COD Available
Return request must be raised within 15 days after delivery.
Email us at contact@anushkavijayvargia.com
On receipt of the returned item, it goes through a quality check. If the item is damage-free, we will initiate the refund process within 48 hours.
Shipping Information
Shipping Information
SHIPPING
We aim to dispatch all orders within 2-5 working days. The estimated delivery time may vary product to product and can be delivered maximum in 7-15 business days from the time of placing the order.
Note
Note
All of our products are meticulously handcrafted by artisans. We pay close attention to the product's quality, appearance, and feel. However, because of participation of humans in the manufacturing process, a little amount of variation in the product's size, colour, look, and quality is to be expected; however, this is what makes it unique.
"The colour of the product may vary depending on the display of your screen. Please note that there will be slight variations in appearance and designs as per the size ordered."
Description
Bring comfort, warmth and coziness wherever you go with Rooibos Embroidered Multi Color Cotton Throw. Made of soft cotton fabric with an embroidered pattern, this cotton blanket is as comfortable as it looks. Wrap it around you and let the simple natural designs of this soft blanket for winter patterns ease your mind and body.
Product Description of Rooibos Embroidered Multi Color Cotton Throw:
Fabric – 100% Slub Cotton
Multi Color
Country: India
Our products are handmade by family-owned artisans
Care of our Rooibos Embroidered Multi Color Cotton Throw:
Hand Wash
Plain Wash
Dry Clean / Spot clean
Do not bleach
Do not iron print, Do iron on the reverse
Do not pull any yarn, trim with scissor
Do not rub the stain
Our Rooibos Embroidered Multi Color Cotton Throw Available Size:
50″ x 60″inch or 127″ x 152″cm
Also Check out our: Mahogany Embroidered Multi Color Cotton Throw